Dressage Horses For Sale: Fantine-VT "Virginia Tech"
Coming 5 Year Old with 2 years professional training already!
I Found My Match at Impulsion Unlimited!
Find Yours Today!

Fantine
Mare

_2006

Oldenburg NA
Chestnut
15.2+
Fabriano
Schooling
Second Level
About Me:
Hi and welcome to my page! My friends and trainer call me "Tina Fabulous". While I am not the tallest gal in the barn at 15.2H, I more than make up for it in my temperament and talent. Everything is easy for me. I moved to Impulsion Unlimited as a 2 y/o and learned everything I know from Sue a USDF FEI trainer who knows how to get us youngsters started right. I have never had a bad ride in my life and it shows.
I had a few other riders including a beginner I taught when I was still 3 how to ride my walk, trot and canter and her diagonals. It is fun and I never get upset when somebody makes a mistake. Other trainers/riders who try me love and my laid back approach to life on hacks and how my training shines in the ring. I get this from my dad's side. He is the world famous Fabriano. I am ready to show First Level Dressage right now and know everything to do Second Level.
Some red headed gals contribute to stereotypes. I am "Tina Fabulous" and never subscribe to that moody mare stuff. There are two men in the barn interested in me but, I don't pay attention to them or the needy mare I hang out with. I have places to go like the FEI 4 y/o classes and I am ready now. Yes, I am a bit of an over achiever! Don't tell Polaris... but I think he is cute!
If boys end up part of my future ask Jeff to see my pedigree...my inspection results show me as "Premium 8.2" in the Oldenburg NA registry.
I am looking for a new owner only because Sue and Jeff can't keep all of us forever. I have a full set of recent x-rays too. I don't have any issues.
Video of Fantine Below:
If you do not see the video player, you are not logged in. Please register or Log In to View
Trainer's Notes:
If you are looking for a partner to bring up the levels that is tolerant, forgiving and a quick learner this is your next horse.
Fantine is correct mover easy to sit and light in the hand, she is a joy to ride and in Full Training under FEI trainer Sue Cooper.
Her temperament is in the 3-4 range. Sue started Fantine and she is CORRECTLY trained, forward to the aids and NEVER had a bad experience.

Save on your Vet Check: Fantine has a recent, clean set of FULL X-rays.
Registered Oldenburg NA
Hacks out alone or with company.
She clips without effort
Crossties and stands for grooming like a lady
Good with vacuum, farrier, clippers etc.
Loads on and off a trailer with ease
Never marish
Fantine is great around dogs, tractors, chainsaws, weedeaters etc. and is never not spooky
We love the Fabriano bloodlines for their rideability, trainability and temperament
Fantine's Inspection Results
At her Oldenburg NA inspection, she was named a Premium Foal, with an overall score of 8.2 and would be an asset to any breeding program.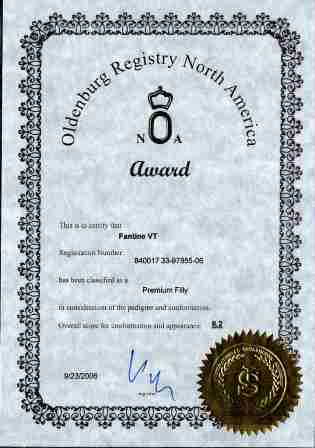 As a two-year-old, she won the 2YO Fillies class at the FEH show at Virginia Tech.
Fantine's Breeding
SIRE:
FABRIANO
won his stallion test at Adelheidsdorf with a score of 128.55 for dressage, 132.27 for jumping and an overall score of 133.02. His breeding values for dressage, jumping, conformation and rideability are all well above average. His foals are known for outstanding minds and exceptional talent both for jumping and dressage. He has produced more than 10 approved sons, including Fabuleaux, a leading sire in the US. Son Felix is Olympian Debbie McDonald's next international Grand Prix dressage mount, and Fabriano daughters are cherished in broodmare bands around the world. Fabriano foals inherit their father's free shoulder, strong hindquarters and elastic, rhythmic gaits, along with his super rideability.